We are all drowning in paper and it is time for us to start taking control of our paper clutter in our lives!  Welcome to the first article about my paperless project.  My goal is not to scan and save everything.  Doing that just moves the paper clutter to digital clutter. My "how to go paperless at home" article is all about reducing the paper in my life.  This is a combination of keeping some documents, scanning some documents, and destroying the rest. This article will help you create a plan to reduce the paper clutter in your life too.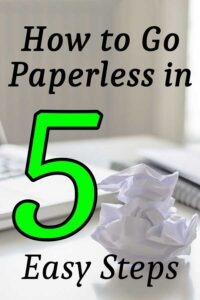 Organizing your paper in digital form is no simple task. You cannot just scan everything into your google drive and then rely on the search function to find things later. I know a lot of people who do this or scan it in their OneNote or Evernote without thinking about what that approach is doing long term. A better approach is to setup an organization plan that will meet your needs today and many years in the future.
How to go paperless at home is relatively simple to do but requires a large effort to scan and organize because you probably have many years of documents that need to be properly digitized and organized. I have completely organized my documents using these 5 steps and if you follow my plan, you can be completely digitized and organized in no time.
Let's get started.
How to Go Paperless at Home
Step 1: Create a Plan
The first step is simple. All you need to do is decide what to keep in paper form, what to scan and move to digital form, and what to get rid of and shred. There are many ideas on how to do this but this is a very personal decision that only you should make. The minimalists will want to destroy most of it and the conservative person will want to scan it just in case they need it sometime down the road.
There is no right answer for everyone so decide what category you fit in and make sure your plan fits your goals. Here are 3 retention plans to get you started. Feel free to adjust to your needs and opinions.
What to Keep, Scan, and Destroy
Paper

Minimalist

Average

Saver

My Plan

Legal Documents

Paper Forever

Paper Forever

Digital Backups

Paper Forever

Paper Forever

Digital Backups

Medical Records

Paper Forever

Paper Forever

Digital Backups

Paper Forever

Paper for 10 years

Digital as needed

Medical Receipts

Digital 7 Years

Paper 1 Year

Digital 2-7 Years

Destroy 8+

Paper 7 Year

Digital 8+ Years

Paper 1 Year

Digital 2-7 Years

Destroy 8+

Bank Records

Access Online

Paper 2 y

Paper 7 Years

Access Online

Mint.com

Credit Card Statements

Access Online

Paper 1 Year

Paper 7 Years

Access Online

Mint.com

Tax Returns, Receipts, and Documents

Paper 1 Years

Digital 7 years

Destroy 8+

Paper 9 Years,

Scans 10+

Paper Forever

Paper 10 Year,

Scans 10+

Business Records

and Receipts

Paper 1 Years

Digital 7 years

Destroy 8+

Paper 9 Years,

Scans 10+

Paper 9 Years,

Scans 10+

Paper 1 Year,

Scans 2-7 years
Shred 7+ Years

Utility Bills

Access Online

3 Months Paper

then Destroy

2 Years Paper

then Destroy

3 Months Paper

Shred over 3 M

Vehicle Records

None

Digital Until Sold

Paper Until Sold

Digital Until Sold

Home Improvement Receipts

None

Digital Until Sold

Paper Until Sold

Digital Until Sold

Investment Records

Access Online

7 Years Digital

7 Years Paper

Access Online

10 Years Digital
The next step in the plan is decide where to store your files. Most people have filing cabinets at home so coming up with hanging folders and labeling is a logical first step.
The same needs to happen at the digital side. You need a filing location (Google Drive, MS OneDrive, Box, iCloud, etc) and an organized list of folders. In addition, you need to decide if you will use any specialized websites and apps to handle any of your data.
Special Apps and Websites
There are no shortage of special apps and websites designed to manage your information but these tend to specialize in one category. For example, there are websites that specialize in business receipts, car records, utility bills, business cards, and so on.
I have tried a lot of these special apps and websites. Some are good and most are more hype then help. I have tried and use all of the sites below and I can honestly recommend them. I do not have any affiliate relationships with any of these companies and do not receive any money or benefits for recommending them. These are sites I use and am just passing along my experience hoping you can benefit from it.
I use Shoeboxed mostly for my tax and medical receipts. It is easy to use, secure, and best of all, free (if you are willing to enter the data manually for your receipts). The site makes money by charging a very reasonable monthly fee to scan, edit, and audit receipts for you. It's a great idea that will take off and I highly recommend it.
One side note, since I am very picky about the images of the receipts I save, I use a different scanner app for capturing the PDF receipt and I upload it from my PC. I could automatically email it or upload it in several other ways but using my PC is easier for me.
I have been using MyCarfax for some time and they have just started allowing you to upload repair and maintenance receipts to the website. The site is really valuable for managing my family's car maintenance schedule and it does a great job of telling me when oil changes, tire rotations, inspections and registrations are due.
I also record all maintenance records into it so I know when my last brake job or battery replacement happened. It will remind me when any scheduled maintenance item is due. With the crazy busy lives we all live today, I find it relaxing that I can offload the car maintenance schedule to MyCarFax. It is also free to use.
Finovera is the key that allowed me to move to a paperless life. Finovera is a relatively new player to the game and will collect all your bills and financial statements in one place. From there, you will know when bills are due, how much is due, and it will download your statements so you can reference them anytime in your account.
You also have the ability to pay each bill either automatically or manually. The site will email you when things are due so you will never forget to pay a bill ever again. The best thing, its a free service (at least for now).
FileThis is a great website for going paperless. If you already signed up for paperless billing, you are probably getting a monthly reminder that your bills are ready to download. With FileThis, it will download the files for you automatically and send them to your Google drive (among other options). One less things to do, sounds good to me!
I don't trust anyone with my bank or credit card records and since I only get 6 free accounts to connect to and download, I am only using them for some of my utilities. Since my credit card and bank records are syncing with mint, I don't really need to have to download a statement. I use the online versions until they cycle off (about 2 years) and that is plenty of information for me.
OneNote contains everything for me. If find something interesting on the web, I clip a section and save it to a OneNote page. I collect all my notes, ideas, task schedule, and just about anything I would normally write down is being stored and managed in OneNote.
OneNote is just like Evernote except OneNote offers a web, app, windows, and Mac version. Since I can manage and take notes offline, it really increases its usefulness for me but I also see (and have used) the usefulness of Evernote and are interchangeable for most people.
I also scan information from anywhere and can put it in OneNote. I use my PDF scanners and push it directly to OneNote and I can also scan part or a whole website page to a OneNote page too. It is a great way to collect information in one place so I can reference back to or when I need to. No more sticky notes around for me.
OneDrive and MS Office are bundled together for me. I use OneDrive with MS Office like most people use Google Drive with Google Apps. I just prefer it and think the extra features are so worth it. This is mostly free (I do pay $2 a month for 50 GB of storage instead of the free 5 GB). This is the only thing I pay for out of everything in this list.
I put all my files here that don't fit into one of the specialty sites listed here and I make sure its organized and synced with all my computers. I also use my NAS to backup my OneDrive once a week to make sure I am safe from any problems.
Local NAS
Having worked for the government in highly secure jobs, I know the Internet is not a save place to put private data. Because of this, I make sure my private data is protected by storing it locally in a private NAS cloud drive. I keep all my financial, medical, and other private information there and protect it with several firewalls.
In the past, I have a review on my NAS drive and will link it below. I do recommend you make sure your private data is protected and not put on the web for others to steal. Make the effort now to protect your information and it will differently thank me for it later.
[pt_view id="31f106c2tk"]
Most of us have probably heard of Mint and may even be using it. For me, it manages my financial records and budget stuff by logging into banks and credit card companies and collecting the data into one place for easy money management tasks.
If you don't have a budget and financial goals, you need to start doing that. It is very important to start taking control of your finances and controlling what your money is doing for you.
I started using Wave this year as a replacement for Quickbooks. I only store my business financial records here and link it to my business accounts for reporting and record keeping. This is free for me since I run a very small business and don't need any of the advanced features.
Step 2: Buy the Hardware and Software
If you realize you have hundreds of files to scan, they you will likely want to invest in a high end scanner. Having a sheet feed document scanner will be able to take multiple pages and scan them quickly and easily.
To find your files easily, you will need a naming standard to use for your files. I combine 3 key pieces of information in my name [date]+[Category]+[Description]. For example, I use:
20181115 Tax Records – Bank 1099 form.pdf
The first part (Date_Category) is globally used to make finding files easy. I also do an OCR scan of all files to make them searchable. The description can be anything and I try to make it best describe the file contents.
I also try to make the file as small as possible but also as clear as possible. I use about 150-200 DPI in B/W or Gray scale. Sometimes I will scan in color but not often.
For Small Scanning Jobs
If you have just a few documents to scan, then using a flatbed, phone, or wand scanner will probably be fine. Also check out my review of the Canon ImageFormula P-215 scanner which is my favorite.
I have all 3 (scanning iPhone app, Flatbed on my printer, and a want with a docking station document feeder). They are not useful for scanning a lot of files but great for on the go scanning. If you are planning to scan directly to your computer, then the brother printer scanner is a better choice.
These are extremely useful when in maintenance mode and doing single scans while on the go. Scanning a single receipt or document is so simple and quick using any of these tools and hardly take any room in my office.
For Large Scanning Jobs
Since my multi function printer with the document scanner broke last year, I have been looking for a replacement and here is what I have found (but not bought yet). The Brother line of multi function laser printers have the printer, scanner, document feeder, and fax all together for about $150 ($120-$170).
The problem is if my goal is to go paperless, it seems wrong to buy a printer. My indecision comes from the price. It is a quality scanner for 1/2 the price of just a document scanner. Since most families will need a printer for occasional printing, this option will work great for most families.
For me, I already have 2 printers and do not need a 3rd.
Shredder
This is simple, cheap, and necessary. Buy a family shredder today (if you don't already have one). They are usually around $25 and extremely valuable in protecting your personal data the bad guys. Amazon has very good and very cheap ones and I recommend the 8 sheet one.
Since you will likely be receiving utility, bank, and credit cards receipts long after you go paperless, shredding these files when they come in is a great idea. I like to do it as soon as I open the mail and prevent it from even landing on my desk.
Once you have the scanning hardware, its time to get to work!
Step 3: Execute the Plan
This may seem like the simple thing to do but it probably the hardest. You have years of data to scan and collect into a paperless system and it will seem like a monster task that will get procrastinated forever. At least this is the way it was for me and I suspect most people too.
The problem here is to look at it as a mountain instead of just a series of simple steps. Lets take those steps together and I can show you how easy it can be.
The first step is to list the files you have to process. They will likely fall into the following categories:
Legal Documents
Medical Records
Medical Receipts
Bank Records
Credit Card Statements
Tax Returns, Receipts, and Documents
Business Records and Receipts
Utility Bills
Vehicle Records
Home Improvement Receipts
Investment Records
First things first, lets delete all the papers you don't need. Get rid of all the paper you want to destroy. Remember to shred it and not just throw it away. Be safe with your personal information.
Signup for any services you need and get your directory structure in place. Go slow and test your plan before you dive head first into the process. Once you know your plan is good, its time to kick things up a notch.
Before you start scanning paper, make sure you cannot just download it from your bank, utility, or credit card company first. You will save a lot of time downloading it over scanning.
The next step is just to pick one category and start processing it. Promise yourself to scan and process 25 documents every day. Keep at it until you are done. Its really that simple and you will be really happy and much less stressed once this is all done.
Step 4: Maintenance
This is the easy part. You have a plan, your data is all organized and you can find anything you want very quickly. Now you just need to maintain it with some simple rules.
The maintenance process will be different for everyone but here's what I do.
Everyday all main and paper go into a cubby box in my office, unopened. Once a month I take everything out of the box, open it, and read and review it. If it's a bill, I pay it. If its information I want to keep, I scan it (if I cannot download it), and if its junk, I shred it.
One I pay or process it, I either shred it or keep it according to my plan.
Step 5: Backup Weekly
If you are moving most of your files and data to the cloud (or just in digital form), you need to back it up often. I have 2 sets of automatic backups always happening and its really easy to do with my NAS server. I also have my files syncing between all my computers and I even take a copy on a separate hard drive and store it in a fireproof save. It is very important to protect your digital files.
Conclusion
Hot to go paperless at home is not easy the least but will have an incredible affect on your life. Going paperless is a very large step into the world of minimalism and brings with it a huge sense of relief and stress free living.
You do not have to have any interest in becoming a minimalist to tame the paper in your life. You just have to be willing to follow these 5 simple steps and start enjoying a cleaner, more organized life.