This is a review of the HP Elitebook 840 G1 laptop. I recently bought it refurbished on eBay for around $250 with an i5, 180 GB SSD, and a 14 inch touch screen. Here is my review.
My core needs were focused around portability, durability, expandability. I needed something that I can use while traveling and anytime I wanted to pull it out for a little work. I also wanted something under $300.
The touch pad and screen size were very important as I wanted to have a MacBook Air experience but with Windows instead of macOS. Weight and thickness was critical and I wanted a ultra portable notebook but wanted easy access to replace the battery or other core parts without removing 20 screws.
The goal was to get at least an i5 chip, biggest SSD I could afford, and something that could support at least 16 GB of RAM. I planned to use it as a Hyper-V host to run several test VMs in a portable lab. This laptop fit all these requirements perfectly.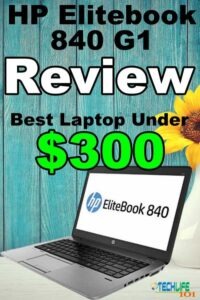 HP Elitebook 840 G1 Review Overview
The laptop is a great mix between a full and ultra portable laptop. It offers all the features you
would expect in a full sized laptop (minus a DVD drive) in a super thin package. Overall impression of the laptop is pretty good but not great. The best features are portability and upgradability. The biggest issues are screen glare and a terrible keyboard that makes writing very difficult.
Screen
The laptop is a great size for working anywhere. I debated between the 11.5, 12.5, and 14 inch laptops and finally decided on the 14 inch screen. This was a great decision for me.
When I compared the screen to my 12 inch or other 12.5 inch, I don't see much of a difference but I believe every inch of screen space is critical to multitasking. Even through it does not appear to be a huge difference in screen real-estate, it helps a lot and I use it.
I love the touch screen option on the laptop and at first I didn't think the G1 even had touch as an option but it does. The screen glare is terrible due to the layering of the digitalizer and LCD screens. The only way to overcome that is to set the screen to max brightness but its still very noticeable.
Portability
This is where the laptop stands apart from most others. This is a 14 inch laptop that is under 1 inch thick and around 3.5 pounds. This size combined with the large touch pad, light up keyboard, and touch screen make it extremely easy to use anywhere.
Battery life is pretty good with several hours of use with the standard 3 cell battery. You can improve performance and upgrade to the 6 cell battery or even go with the 50 KW slice battery that will more then double your battery life.
For those like me who love having multiple monitors, the docking station will easily provide up to 3 external monitors, 4 USB 3.0 ports, audio and Ethernet connections.
Most laptops are I replaced the standard charger with a small light weight one that I love. It makes being portable so much easier and I highly recommend changing out your charger.
Performance
The i5 chip is great for normal tasks and will probably last for 5-7 years without needing replacement. This means if this is being used for high school or college, it can easily make it through school and be a great learning tool.
I compared the performance difference between the i5 and i7 chips and decided to get the i5. The cost for the i7 was not worth the minimal performance improvements.
I personally think SSD drives should be required for all laptops and the HP Elitebook 840 has the option to have 2 internal SSD drives (standard 2.5 and M.2 port). This is great news for me as I can now have a dedicated drive for my virtual machines and dramatically improve the functionality of my portable lab.
Reliability
The HP Elitebook series is famous for its reliability and durability. Countless tests have been performed where the computer is either dropped, spilled on, or just abused in general and it can take the hits and keep on working. It was designed for business travelers and I think it can easily handle the rough handling of today's students too.
Most of the Elitebook series also has very affordable parts that can be easily found on the Internet. I replaced 2 screens to date and the cost was less then $50 for the screen and took about 15 minutes to replace.
The 840 is as durable as they come. The case is made of aluminum and magnesium and has passed very high military durability standards according to MIL-STD 810 G1. The hinges that connect the base unit and the display cover are very precise, but still smooth, so you can easily open the notebook with just one hand.
Expandability
I think we can all agree the vast majority of laptops are very limited with any expandability options. At most, you can replace a hard drive and maybe add a small amount of added memory. This is not the case with the HP Elitebook 840.
HP makes it incredibility easy to upgrade the laptop they give it a simple to remove (1 latch) back panel. Inside you will find 2 SIMM slots, 1 SATA drive, 1 M.2 SATA, and 3 or 6 cell internal battery.
Let me restate this. YOU CAN HAVE 2 HARD DRIVES in this laptop plus a SD drive. For my purposes (as a lab laptop), having 3 drives on the go makes this an incredibly useful machine. I can demo or develop anything form anywhere.
I only wish it also had the ability to have 32GB of ram. For me, that would be the icing on the cake.
Specifications
14-inch LED backlit HD display with anti-glare coating (1,920 x 1,080 pixels) (Optional Touch Screen)
Intel Core i5-4200U or i7-4600U
Intel HD Graphics 4400, AMD Radeon HD 8750M (switchable)
2.5 SATA or SSD drive bay
M-SATA Drive Bay
Max RAM 16GB (Dual memory sockets)
3 x USB 3.0; 1 x USB 3.0 charging; DisplayPort 1.2; VGA; stereo headphone/mic jack combo; AC power; RJ-45 Ethernet; side docking connector
Battery 3-cell, 50Wh; optional battery slice (60Wh) available
Other features Easy access panel on underside, SD card reader
Dimensions 33.89cm x 23.70cm x 2.1cm
Weight from 1.58kg
PROS
Sturdy build quality
High-quality full-HD screen
Good CPU and graphics performance
CONS
Light up keyboard implementation could be better
Lid surface is a fingerprint-magnet
Disk performance could be better
Conclusion
This concludes my HP Elitebook 840 G1 review. I love everything about this computer except the keyboard. This is like having cloth seats in the most luxurious car ever made. It just doesn't fit the design. I understand they needed thin but could have invested a little more in this area. Since I am very picky on my keyboards and prefer the mechanical design over the low profile, your mileage may vary in this area. Also the screen glare is a pain to deal with.
All other areas of this laptop are outstanding. The value I am getting with durability, performance, and portability all for under $300 make this an incredible find.