Here is my Netgear ReadyNAS 104 review that I have been using for several years. These are harder to find these days but you can try Amazon at this link (NetGear ReadyNAS 104 NAS server).  
I have been in the market for a larger NAS server for almost 2 years. When the prices came down over Black Friday, I thought it was the perfect opportunity to upgrade. During the sale, I ordered the NAS for under $150. In addition, I also ordered 3 WD 3TB Red drives (for $99 each).
The reason I selected the ReadyNAS over other brands were availability of apps, cost, number of bays, and customer reviews.
I have a computer at home running my Plex server. I was getting really nervous about not having any RAID protection on that server and my DVD collection just keeps growing every year.
The ReadyNAS device supports a Plex app right on the NAS device so I can transfer my movies over and power off a PC reducing my carbon footprint just a little more.
I was also looking forward to using many of the other apps as a way to centralize other applications too.
With my data files growing like crazy with family pictures, documents, and media, I needed more space. I suspect most people are in this boat too.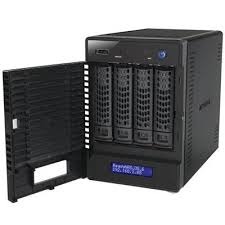 Where are Your Pictures? Are they Protected?
I fix computers for a living and I get a TON of calls from desperate people looking for a miracle when their computer dies or they get a virus.
Don't be a frantic customer calling someone, take action today and protect yourself!
If you keep your data on the Cloud or on a local NAS server, then you are protected.
At first, I was very disappointed with the performance as it was taking forever just to navigate the menu's and move my data files to the array.
After building it with 2 drives, I added the 3rd drive to see if it would automatically allow me to increase the space or if it would require a rebuild. I am happy to say it automatically added the 3rd 3TB drive without me having to rebuild anything.
It was really slow during the rebuild process but once the rebuild was done (a few days later), the speed returned to the array and it is now performing as expected.
Running Plex on the ReadyNAS 104
I have read a lot about Plex having problems transcoding video's so I still has one major test to perform.
When I buy a new DVD, the first thing I do is convert it with Handbrake to a MP4 video to reduce space on the drive. I take a 4.5 GB moving down to about 800 MB and little loss in quality. I usually do my movie watching on small screens or TV's no more then 32″. So far, I have been very happy with the quality and speed of rendering the picture.
So far Plex is performing as superbly on the ReadyNAS 104. One note about Plex with my other media. I do not like the way Plex handles Music or Pictures management so I do not use it for those media types. I am hoping a future release will improve it but for now I am using other programs to manage my music and pictures.
Media Storage
With Plex working as expected, I now directed my attention to my music. I do have a very large music collection since I started collecting music when I was in college and worked at my college radio station. I turned on the builtin iTunes server and after many hours of troubleshooting was able to see all my music using iTunes.
For the record, I am not an Apple fan and I really dislike iTunes. I prefer MediaMonkey to manage and play my music. To manage my music, I installed a portable version of Media Monkey on my MS OneDrive and point it to my music share.
This allow me to manage my music from any computer in the house. I can even sync my music with my Apple devices if I have iTunes installed (which I do on one laptop). So far I am still looking to get Apple AirPlay working through MediaMonkey. Once I have that working, I think I will be set with the music aspect of my life.
Conclusion
This is the perfect NAS for my home and can be for your too. It is cheap, filled with features, and can store a ton of data. Take a look at it on Amazon and see if you agree with all the other people using it. If you have one and like it, tell us why in the comment section. If you have any questions about it, you can post them also in the comment section and I will be happy to tell you more about my experience using it.
Update
Three years later, the ReadyNas 104 is still working perfectly without NO issues in several years. There is a lot of data on it and I LOVE IT.
I am a data junkie and needed more space so I just installed another NAS, a QNAP NAS TS0459. I will write a review on the new NAS in a few days but I highly recommend either one for your NAS needs.